What Is A Balance Boards-Simple But Effective Device
Balance Boards
Balance boards are very simple and effective devices which provides you many benefits. If you are looking for an inexpensive way to improve many of your personal development skills this is a product you should consider? The health benefits amazes many people they receive from using this product regularly, so what are some of the benefits you receive from this product you might be asking yourself?
Recreation
Balance Improvement
Athletic Training
Brain Development
Rehabilitation
Therapy
Children With Special Needs
Balance Boards Benefits
Balance boards are also known as wobble boards, these products are an inexpensive way to improve your balance and many other motor skills. These boards are used in therapy to restore the equilibrium in people of all ages, these have become very popular for children with special needs with balance problems. When you make therapy fun these children will do it longer and receive more health benefits. If you are looking for an inexpensive product to improve your child's balance consider this product for your child?
Improve Your Balance
Strengthens Your Ankles
Coordinates Your Body
Improves Your Reaction Time
Children With Special Needs & Balance
Anyone who has a child with special needs in the family understands how they experience balance problems, this is just one of the special needs many of these children experience. Developmental delays often is the reason these children has balance issues, these issues are often related to their lack of development of their motor skills. You will most often find this product for kids in the toys and games wherever you shop, many athletes use this product as a part of their training, so this should give you confidence this simple device does work?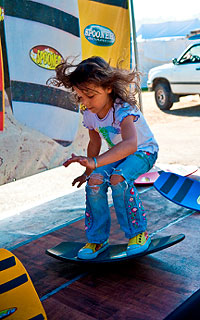 Balance Toys & Activities
Children love swimming and this can be a great asset to improving their balance, just standing upright in a swimming pool about chest high in water will allow your child to stand without your assistance. There has been children who were not able to walk, but these same kids have experienced being able to stand and walk in water. Swimming can be a great family activity and awesome therapy at the same time. When children are enjoying what they are doing they will do it longer and receive more benefits.
Many children have a fear of going up and down stairs, my son with autism used to shuffle himself up and down the stairs to prevent himself from falling. Allowing your child to shuffle up and down the stairs on their own is good therapy for them, these kids will gain confidence and most will eventually will improve their balance slowly to use the stairs the way everyone else does. Think of this as an educational learning tool for your child, of course you should supervise them to be sure they don't experience any problems.
There is a product you will find in the toys and games section in your stores, this special invention adapted for the children with special needs to improve their balance. For small children look for the mini-micro kick scooter, for larger children look for the maxi-micro kick scooter. Two wheels in front makes it impossible for your child to tip over, the scooter will stand by itself. Your child will experience confidence by using this kick scooter, this is a fun product children seem to love, and it even seems to boost their energy.
Did you ever think a skateboard could provide your child balance benefits, skateboards for children interest them to play on because this product allows them to sit on the board and move forward and backwards? This is a very stable product for your child, many children will love this board so much they will spend much of their day on their board playing. This is another product which will give your child confidence, you will notice your child will gradually become braver and improve their balance with a skate board. My son with autism loved this old skateboard he found at a yard sale, eventually he started standing up on his board and this was a great asset to him improving his balance gradually.
I notice many of my neighbor children are playing with this new type of bike on the market, these children are only toddlers and much too small for a regular bike. The balance bike seems to appeal to children, there are no pedals  this type of bike. Basically,  these children are walking using the bike for balance, this type of exercise play builds strength in their little legs. I just read balance bikes are highly recommended for toddlers to prepare them for a regular bike when they become older, this is another good choice for a product which will help your child's balance issues.
What Is On My Mind Today?
My articles I write for you are partially from my own experience with my son with autism, the remainder of my articles are from research which I always share my resources at the end of my articles for your own reading if you desire. This website is all about helping you and the children with special needs in your life, many of the things I share you can use for any child as well and receive the same benefits.
---
Resources & Help