The Real World-New Job New Life
New Job New Life
The majority of college students are not prepared for the real world, even the most serious students with the best education for the career of their choice is not prepared for their first job and new life. The majority of college students first job often is not even in their career field, even the ones which do find employment in their career field is not what they are expecting. Usually your first job out of college is an entry level position, these positions are much lower than students are expecting. Many students are not able to live on their own with their first full-time position out of college, for the ones who do go it alone must have very good budgeting skills.
Stay Positive
Staying positive is a must during this adjustment in your life, your new life will be full of both excitement and disappointment at the same time. Being prepared is your best asset, acceptance and willing to adjust as you need will keep you focused and grounded. In the case your entry level position is low pay to start you will need to be prepared, people who can understand their wants and needs will experience much less stress and anxiety during this time. Living expenses versus your income will determine your budget plan, living within your budget is a must otherwise you are going to be causing yourself much emotional stress.
Acceptance
Being aware things will be a little tough for a while will help a great deal easing your emotional stress, often when you are disappointed unexpectedly it hits you very hard. For most college students their first position out of college is not what they expect, what can even cause you more stress is the fact you underestimated the high cost of living. Just the main living expenses can add up very quickly, most people underestimate these expenses until they receive their first month bills. Accepting you might not be able to do all the things you did as a college student is a must, many things you desire might have to wait for a while and you must be able to accept and deal with this to survive.
Stress & Anxiety
Stress and anxiety will be expected with this major change in your life, how you react will determine how you get through it. There is no way to avoid either of these experiences, they are a part of life. This is where your relaxation and coping skills will be more important than ever, being able to deal with your stress starting a new job is very important. Juggling your work life and your personal life will be more of a challenge for you now,  a healthy balance of work and play is a must now for you to remain emotionally healthy.
Personal Life Management
Whatever happens everyone must have a personal life to be healthy and happy, living on low budget does not mean you give up your personal life. Of course being realistic some changes will have to be made to stay within your budget. Adding new interests and hobbies which are free or low cost will be a must, look at this as not giving up anything but adding new adventures in your life. Since you will be working full-time now, time management will be even more important than ever. Healthy relationships are very important for you to remain emotionally healthy, keeping in touch with old college friends will be a huge mood booster. Don't beat yourself up, stay motivated keep up with your meditation and yoga.
Faith
The secret to life is having faith in yourself, learning to let things go is something many anxious people struggle with. That is where your meditation will enrich your life, once you master this skill you will be using if naturally. Anytime you have a few minutes you are able to use this skill to ease your mind and your anxiety,  I find taking a few minutes when feeling fatigued and meditating restores my mental energy, it allows me to become more creative and focus. Yoga gives your body new life, often in the late afternoon when most people are hitting the caffeine for energy I am doing yoga.  These are what has helped me recover from severe anxiety and depression in the past, soon as I feel anxiety starting to take a hold on me I use these techniques with a passion and depression has been a thing of the past.
Guys Fun Product Of The Day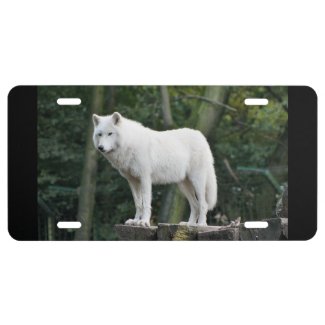 White Wolf's Watch
by
WingSong
See another
License Plate
at Zazzle
Gals Fun Product Of The Day
What Is On My Mind Today
I have had such a turn around of my life with meditation and yoga, please give these a try. At least the meditation, our emotional health is so important for us to be happy and enjoy our life. Stress and anxiety is becoming wide spread in our society, even many children are experiencing problems today. Avoid medications as much as possible, go for alternative health natural remedies.