Teenage Christmas Gifts-So Many Gifts To Choose From
Holiday Stress
Have you developed good coping skills and relaxation skills for stress, people with good skills get through the holidays with less anxiety and make better decisions. Choosing gifts for teenagers can be very stressful, there are many gift to choose from this can become overwhelming for many people. My children are grown up now since they are grown up young men they prefer gift cards to do their own Christmas gift shopping. It would be a challenge for me today to shop for teenagers, it is not only the wide selection of gifts but also the expense is so much higher than when my sons were teenagers. This can test your stress tolerance to the maximum level, are your stress management skills up to shopping for your teenagers?
Holiday Shopping Stress
Holiday shopping can become stressful for anyone, shopping for your wife for many men is overwhelming. Husbands do put pressure on themselves to choose a gift which will make Christmas special for their wives. Wives I am sure also feel the pressure to give their husbands a gift they will enjoy. Wives seems to handle stress better than their husbands when it comes to the holidays, possibly this is their experience handling stress every day managing their family? In many families the wife and mother is the person who has the most input on the gifts for their teenagers, parents should share this obligation to reduce the stress for both people with these important decisions.
Holiday Shopping For Teenagers
This can be very stressful for parents shopping for their teenagers, teenagers are very emotional and parents desire to make their teenage years as happy and stress-free as possible. In many families with teenagers their is much conflict during the year, Christmas is the opportunity to make amends for all those parent and teenage arguments with gifts which shows how much the parents do love them. My sons were not a problem during their teenage years, they did not drink and do drugs which is every parents nightmare. I often wonder if teenage girls are more difficult during this time in their lives than boys, anyone with both sexes feel free to leave me a comment on your experience raising your teenagers.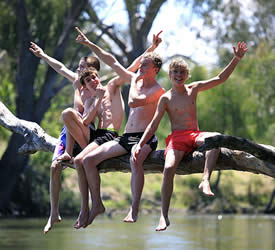 Most Popular Teenage Gifts
Drones
Electronic Gadgets
Computer
Fitness Tracker For Athletes
Shower Speakers
Music
Art / Crafts
Collectibles
Hobby Supplies
One Of A Kind Gifts For Your Teenager
One of a kind gifts for your teenager could make them the talk of their school after the holidays, teenagers are searching for their identity and many like to be different and start new trends. How to give your teenager their one of a kind gift, this is done by personalizing their gifts. You can put any photograph or saying on a wide variety of gifts, come up with something your teenager will feel is awesome or cool and you have a winning one of a kind gift. If you are very creative,  you can make this Christmas special for your teenager, these gifts are a great choice for Christmas stockings with many of them to choose from which will fit into their stocking.
Clothing
Hats
Room Signs & Decor
Key Chains
Pendants
Bracelets
Art & Posters
Tote Bags
Duffle Bags / Gym Bags
Belt Buckles
Lapel Pins
Compact Mirrors
Jewelry
Accessories
What Is On My Mind Today
This article is all about managing your stress during the holidays and shopping for your teenagers, shopping for teenagers does require much more time and consideration than when they were children. The gifts they receive are more important to them, keeping your ears open will give you a clue what is cool and in demand for your own teenager. The gifts which are popular and in demand can come and go so quickly for teenagers, being a parent of a teenager is very demanding and challenging but hopefully you and your teenagers can get through these difficult years together.