Home Away From Home-Your In College Now
Preparing For College
The summer flew by so quickly before you knew it is time to prepare for your new life "College". Mixed feelings are filling your mind right now, feeling very confused about your feelings right now.  One minute your feeling on top of the world with positive thoughts and feelings how great it is going to be on your own, next minute your anxiety has you worrying about if you are able to do this on your own. Take some breaths like you learned from the stress management book to help you calm down, now feeling better you are feeling more positive once again.
College Life Expectations
College life is going to be so cool, being on your own with no parents to check on your every move. The freedom is going to be awesome, finally experiencing adulthood. Study whenever is convenient, not having to study before going out. Living in a dorm with a roommate my age will be so awesome, always someone to hang out with. Eat whatever craving I am having at the time, no more eating your vegetables before having desert. Go out and have fun whenever in the mood, not having to worry about coming home late to angry parents.
Your Anxiety At Work
Anxiety is getting the best of you right now, your thoughts are very negative not really even realistic. What if my roommate does not like me, how will we ever live in the same dorm apartment? Never been on my own before, maybe this is too much for me to handle alone. College studies are going to be very intense compared to high school, all my friends and family are back home. What about money, can I take care of myself? Maybe I choose the wrong career, even the wrong college. Will I be judged because I am a Christian, is this really the right thing for me to do?

College Expectations
I have tried to show you how the very same person can be thinking and feeling so different about the same topic, anxiety has a way of turning our world upside down. When everything is going as planned a person will be very realistic about their expectations when anxiety takes over the expectations turns to extreme fear.  Chances are very good none of these negative things will happen to this person that is if this person can learn to control her anxiety instead of her anxiety controlling her.
Symptoms Of College Students
Since I never attended college myself, I have done the next best thing and researched how stress affected students. This information comes to you directly from students in college their first year.  Listing these symptoms I hope will help you know what you are experiencing is normal anxiety from your stress, most first year students experienced these symptoms.
Concentration
Worrying
Assignments Completed On Time
Attendance
Headaches
Tight Stiff Muscles
Appetite Changes
Sleep Problems
Prepared For College Skills
I do hope anyone reading this article is prepared for the emotional experience of college, some things you need to learn before going off to college are time management skills, managing your time will be a major factor how much stress you experience. Limiting your caffeine consumption is another biggie, watch how much caffeine loaded beverages you drink. Find a good healthy balance of work and play, even older adults do not do this very well.  The most important skills of all before heading to college, learn good relaxation and coping skills.
Deep Breathing
Meditation
Yoga / Exercise
Journal / Diary
Visual Guided Imagery
Progressive Muscle Relaxation
Spirituality / Prayer
Music Therapy
Art Therapy
Fun Product Of The Day
I am on a t-shirt roll right now, everyone loves cool t-shirts. I have a good today for you, it is a photo collage shirt you can customize with your own photographs to make this shirt even cooler and more personal. Great  gift for anyone, but especially for your college student being away from home.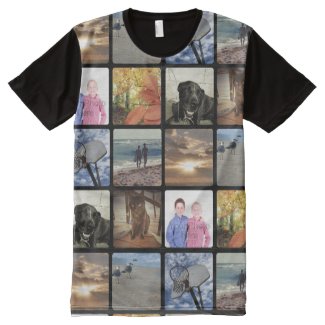 Add Your Personalized Photo Collage Print All Over All-Over Print Shirt by cutencomfy
Find other Photo Panel T-Shirts at zazzle.com
What Is On My Mind Today
All the college students leaving home for the first time is on my mind, such an exciting yet anxious time. I do wish the best to all of you, brush up on your relaxation and coping skills and you will be fine.