Healthy Gift Ideas For Christmas-Give Healthy Gifts For Christmas This Year
Health
Many people today are more health conscious than ever with our health being the worse with each new generation, Very few people do not experience anxiety issues today. even our children are experiencing anxiety problems at a very young age, child anxiety when not controlled leads to more severe anxiety problems when we become adults. Our mental health is not our only health problems today, people today are less physically healthy as well with cancer and other autoimmune diseases affecting peoples lives of all ages. We are less healthy than our grandparents  were at our age, is this not a sign our lifestyles and our food is not healthy for us?
What To Give For  Christmas?
The majority of people experience Christmas shopping stress this time of the year, this can lead to anxiety and even depression during the Christmas holiday. Staying calm and taking your Xmas shopping in steps is the key to managing your holiday stress, will you be traveling during the holidays is another big trigger for many people this time of the year? Consider this year giving the people on your shopping list healthy gifts which will improve their lives could be the best gifts you could give, with so many people with health problems there are many gifts of this type you could give to your loved ones for Xmas this year.
Healthy Gifts For The Elderly
Shopping for healthy gifts can be the best gifts you have ever given your loved ones, consider healthy gifts for the elderly men and elderly ladies would be much appreciated gifts and often more used than other gifts people give this time of the year. My elderly parents appreciate when I give them thoughtful gifts which improves their quality of life, for elderly people consider heat therapy gifts. The majority of seniors experience arthritis and this type of gift can ease their arthritis pain, another gift which many seniors love  is heating blankets. Heating blankets gives anyone at any age with arthritis and inflammation health problems less pain and improved sleep. Many people of this age group also take many vitamins and supplements, consider making them a health gift basket with a supply of their vitamins and supplements. The majority of seniors are on a low fixed income and must pay out of their pocket for their vitamins and supplements, this would save them money as well being a very thoughtful gift.
Healthy Gifts For Parents
Many parents are experiencing the beginning of health issues which provides you with health gift options to give them as well, the majority of parents nearing their mid-life stage begin to focus on improving their health with some type of exercise. Yoga and meditation has become very popular for people in this age group to help them manage the stress in their lives, consider giving yoga and meditation DVD's or even a yoga and meditation class membership or gift certificate. Many parents with the interest to improve their health would appreciate a gym membership, another cool gift parent might like is an  activity tracker?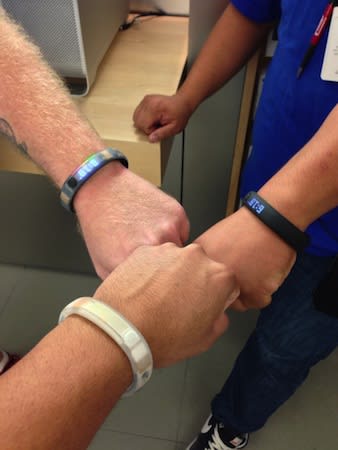 Aromatherapy
Aromatherapy is a very nice gift which provides natural health benefits, by choosing the proper essential oils you can provide yourself with health benefits naturally without much work at all. Women especially are fond of  aromatherapy kits for Christmas gifts, these kits provide everything to get started and usually with a variety of essential oils. you can purchase a diffuser separately and the essential oils if your prefer, but with the kit you are getting a great deal to get your loved one started in aromatherapy. Consider this as a possible healthy gift choice, there are a wide variety of aromatherapy kits to choose from so you are sure to find one which fits your budget. Maybe the idea of an aromatherapy necklace would interest you more, you just fill the pendant with your favorite oil and wear it like other pendant necklace?
 Health Gift Baskets
Consider either making your own health gift basket or purchasing a health gift basket already made up for you, maybe instead of giving someone a junk food snack gift basket choose a fruit gift basket  ? Most people love the sweet natural taste of fresh fruit, the majority of people can never have too much fresh fruit. Want to give someone something different, what about giving someone an herbal gift basket? 
Art & Music Therapy
Art and music therapy are the two most beneficial therapies used for a wide variety of heath benefits, the most popular right now is your adult coloring book kits and gift baskets. This might be a great new hobby gift to introduce to someone this Christmas, anyone who experiences stress and anxiety or even depression will benefit with art therapy. As for music therapy consider relaxation music DVD's especially made to relax the person with high anxiety and stress, another choice could be stress management DVD's.
What Is On My Mind Today?
These are some of the most popular health gift ideas for you to consider giving for Christmas, making your own health gift baskets you can give the person's favorite products plus new products you think they might enjoy trying. Anything which will ease a person's health issues is a good gift, the vitamin and supplement home -made gift basket is a great gift for anyone who uses a variety of vitamins and supplements.